Life Before prodisc:
Originally from the island of St. Vincent in the eastern Caribbean, Eliott moved to the British Virgin Islands as a young adult. He always led a healthy and active lifestyle, originally working in construction and then for 22 years as a handyman performing various maintenance jobs. "I've always enjoyed staying busy and working with my hands," Elliot notes. In his free time, he participated in hobbies like traveling, spending time with his wife and children, exercising, and housework.
In 2015, however, Eliott's journey with pain and discomfort began. His struggles developed slowly, with discomfort and fatigue in his shoulders and then down his arms. He also started noticing that it became increasingly difficult to use his hands for work and even to do simpler activities like writing. This discomfort worsened to become feelings of numbness, tingling, and weakness in his arms and hands. "My symptoms became so bad that I couldn't find a comfortable position to write," Eliott recalls. "I had to hold one pen with both hands so that I had enough strength. I felt like my hands were failing."
As Eliott's symptoms continued to affect him professionally and personally, he decided to seek medical care. He tried conservative treatments like physical therapy which, to his dismay, failed to provide long term relief. Eventually, Eliott sought a consultation with a spine surgeon who performed an MRI. The results of this MRI revealed that Eliott had disc degeneration in his spine. Eliott's surgeon thoroughly explained his diagnosis and recommended spine surgery—specifically, cervical total disc replacement with prodisc® C Vivo. Although Eliott was initially apprehensive about spine surgery, he appreciated how transparent and truthful his doctor was. "I'm a firm believer in authenticity and felt like I could trust my surgeon," Eliott explains. After speaking with his wife and with another patient who had undergone cervical total disc replacement with prodisc C Vivo, Eliott decided to pursue treatment and get healthy—with the added confidence that he was making the right decision. Supported by his loving wife, he scheduled the surgery in Jamaica.
Life After prodisc: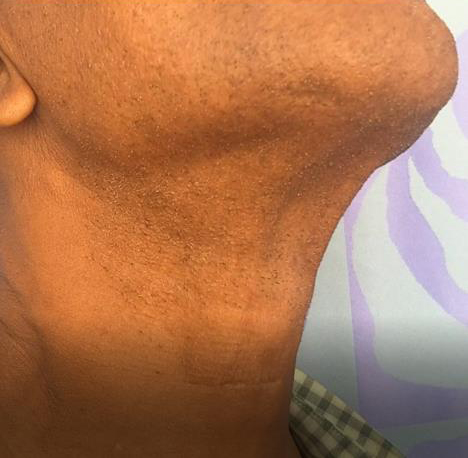 Eliott's minimal scar is barely visible
Eliott underwent cervical total disc replacement with prodisc C Vivo in October 2018. He was in the hospital for a couple days following his procedure where he began to recover. When he woke up after surgery, Eliott was elated that he felt no pain or discomfort! He started walking the day after surgery and learned physical therapy routines to regain muscle strength in his arms and hands—lost over the years of degeneration before the surgery. "I was amazed at the speed of my recovery and mobility after surgery," Elliot fondly remembers. "By the third day, I was walking all around the hospital corridors. Even the nurses were impressed!" The only discomfort that Eliott felt after surgery was from the neck brace that he wore for additional stability.
Once he was discharged from the hospital, Eliott continued his recovery for a total of 19 days in Jamaica. He walked consistently and diligently followed his post-op recovery plan, ensuring that he didn't overexert himself or strain his neck.
"I don't have any discomfort and feel 100%! I'm passionate about sharing my story and helping other people."
Upon returning home to Tortola, Eliott started performing exercise and physical therapy to continue building muscle strength.
Now, Eliott is still amazed at his recovery. "I don't have any discomfort and feel 100%!" he notes with enthusiasm. Though he is retired, this former handyman is able to work around the house and enjoy exercise once again—grateful for his surgeon and the spine technology that gave him his life back.
*Not all devices are available in all markets.
Important Note: The patient information presented is for general education purposes only. As with any spine surgery, there are potential benefits, complications, and risks associated with disc replacement and spinal fusion procedures. Individual results may vary. It is important that you discuss the possible risks and potential benefits of various procedures with your doctor prior to receiving treatment, and that you rely on your physician's best judgment. Only your doctor can determine whether you are a suitable candidate for a specific surgical procedure.